I am so excited right now. I discovered this blog called Happy Mail. You sign up and then mail each other cute things each month. Each person fills out a survey about what they love and then they get paired up with someone else or multiple people if you want. How much fun is that?! I know that whenever I get mail that is anything other than junk or bills, I just about jump out of my skin. Right now the most exciting thing I get is a new magazine each month and it feels like Christmas. I found out about this snazzy little mailing community through the blog Pixies and Bears. She does lots of super fun stuff with paper. I can't wait to get paired up with someone to send prizes too. Once I get my person and get busy I will post the exciting array.
Here is the picture from the Pixies and Bears blog that sold me on this happy mail stuff (hopefully it is okay I used this picture, punch me if it is naughty to steal it):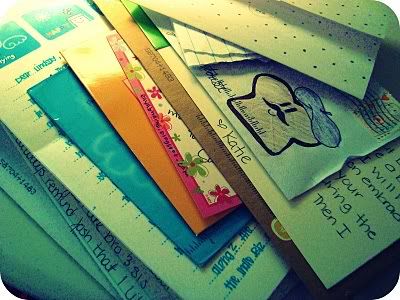 How pumped would you be to get mail like this? Ready, set…go sign up!!!
Love,
Nat