A small window of relaxation in my crazy weekend.
Coral and I enjoy having breakfast together on a blanket in the back yard.
We lay and search for airplanes to fly above us.
Jump on the trampoline.
Make pictures of the clouds.
Forget about the homework, laundry, chores, and obligations waiting for me.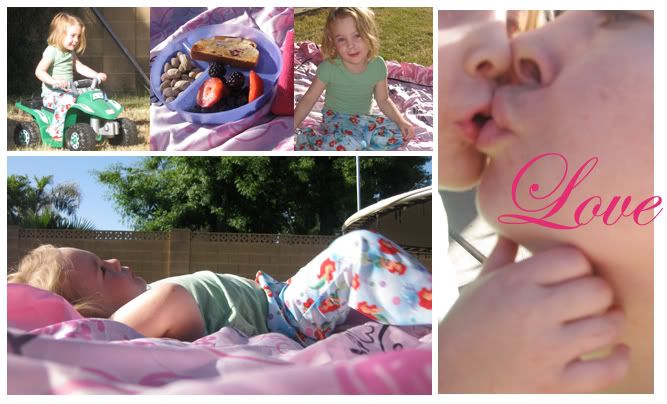 This weekend was literally a mad dash from one place to the next. I have been working on some flower girl dresses for my dear friend Erin. Thureday was the only day to do a fitting because one of the girls lives out of town. So I took Friday off work to sew, sew, and sew. Saturday was the birthday of the lovely Scarlet so we went to that then I came home and finished sewing. I stayed up late getting my make up kit ready to do the makeup for the bridal party on Sunday. Everything was beautiful. I danced my butt off, which is rare for me. The dresses were perfect and theladies looked lovely. Now I need to focus on getting my grade up in the last week of my class. The last few classes are draging; I can't wait to be done with my degree.